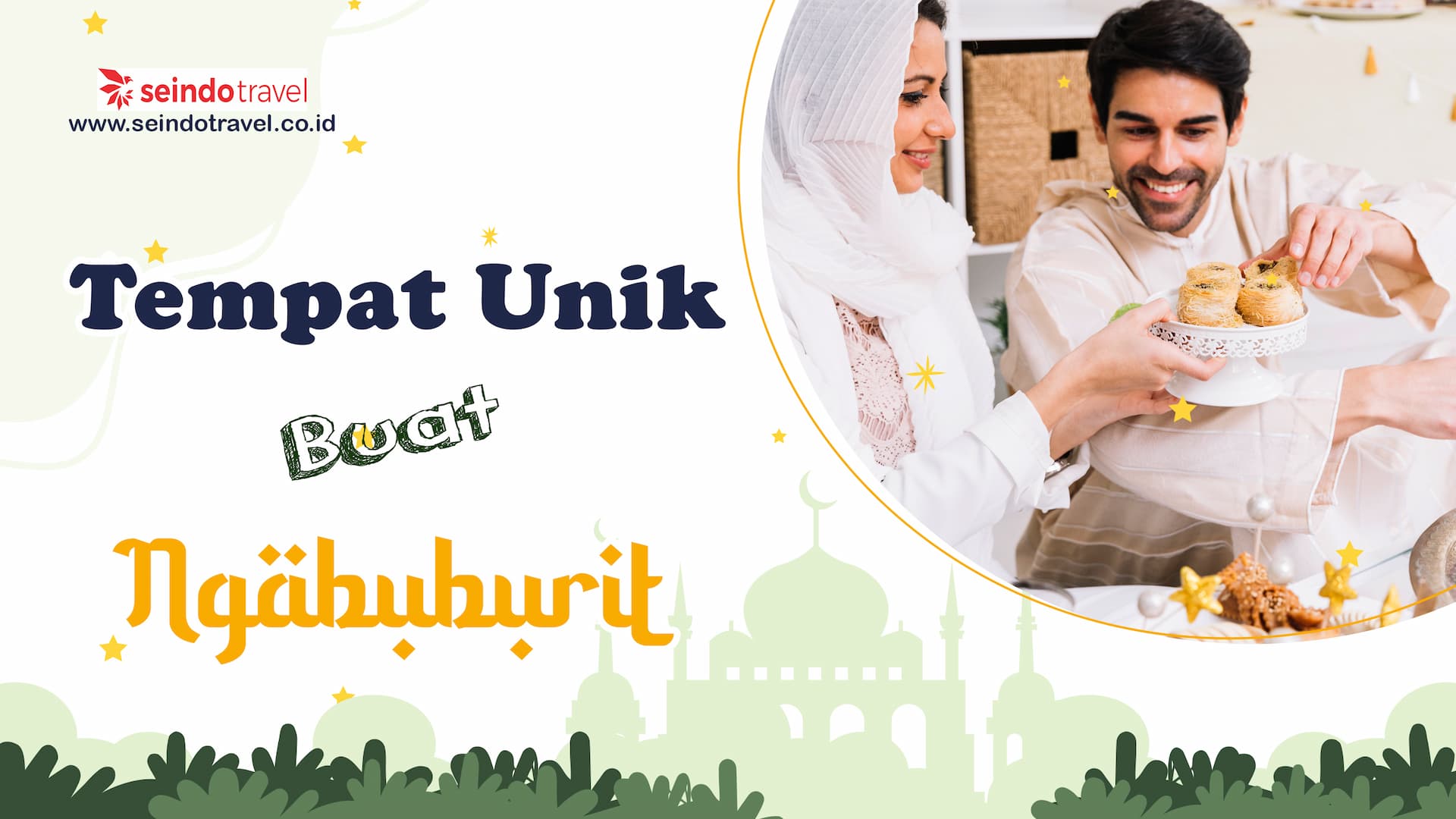 Rows of Unique Places for Ngabuburit Ramadhan
Ngabuburit is one thing that is synonymous with the month of Ramadan in Indonesia. Where Muslims who are fasting will look for certain activities or activities while waiting for the maghrib call to prayer to resound or the time for breaking the fast to arrive.
The activities carried out are various, you can relax in the town square, in restaurants, in parks, tourist attractions, and some even ngabuburit on the hill.
Where do you usually ngabuburit in Ramadhan? Need inspiration? So, below are some unique places for ngabuburit that are fun for you to try in Indonesia! Here's an explanation.
Kota Tua Jakarta Region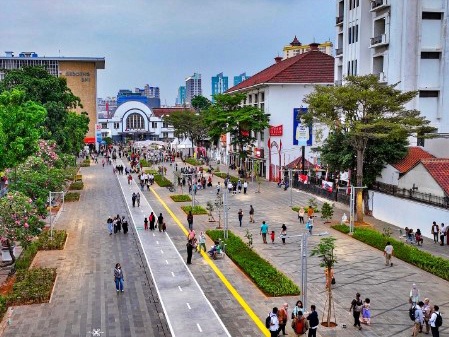 The first unique place that we will discuss is the Kota Tua area of Jakarta. This area seems never quiet, 24 hours a day there is always activity in it.
The many iconic places in this area make local and foreign tourists often refer to the Old City of Jakarta as a tourist destination.
Especially when the month of Ramadan arrives, of course this area will be much more crowded by people who spend the night in Ramadan.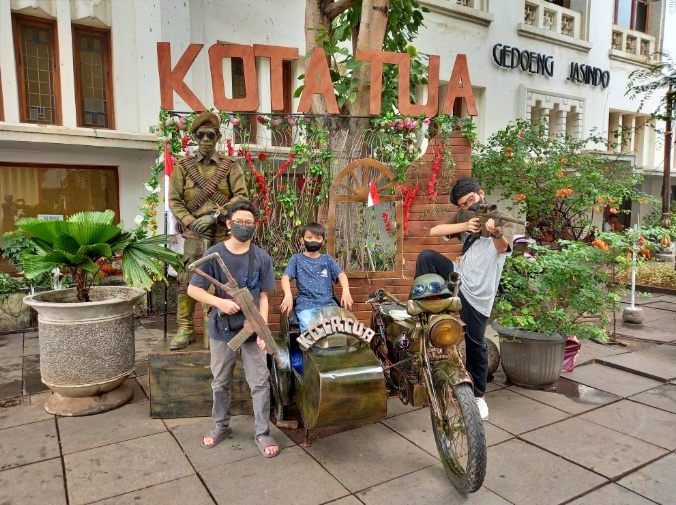 For those of you who are located in the city of Jakarta, you can take a walk to the Old Town Art Street which is the center of street artists' work. Fatahillah Park is also very exciting to visit, the place is still ancient and unique and is often used as a pre-wedding location. You can also rent an ontel bicycle to go around the park area and around the Old City of Jakarta. This is certainly very fun while waiting for the time to break the fast.
For those of you who like to ngabuburit ramadhan, there's also Cafe Batavia in the Old Town Area. The location is right across Fatahillah Park and Fatahillah Museum. When you enter it, you will inhale a very thick colonial and vintage atmosphere. You can order a variety of delicious food with prices ranging from IDR 20,000 to hundreds of thousands for a healthy iftar menu.
Read Also : 5 Makanan Buka Puasa Sehat dan Lezat di Bulan Penuh Berkah
Lima Dimensi Beach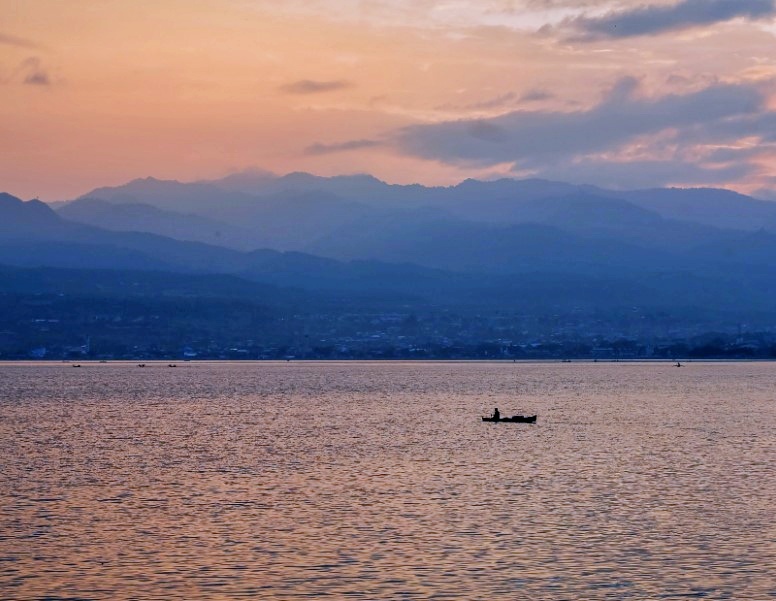 Five Dimensional Beach is the name for Talise beach or Palu Bay Beach. It is called the Five Dimensional Beach because from this beach, you will see five dimensional views, in the form of seas, rivers, bays, valleys and mountains. You can enjoy all these views for free, you know.
In 2018, the tsunami completely hit this Palu coastal area, and now it has become a popular ngabuburit destination for the local community.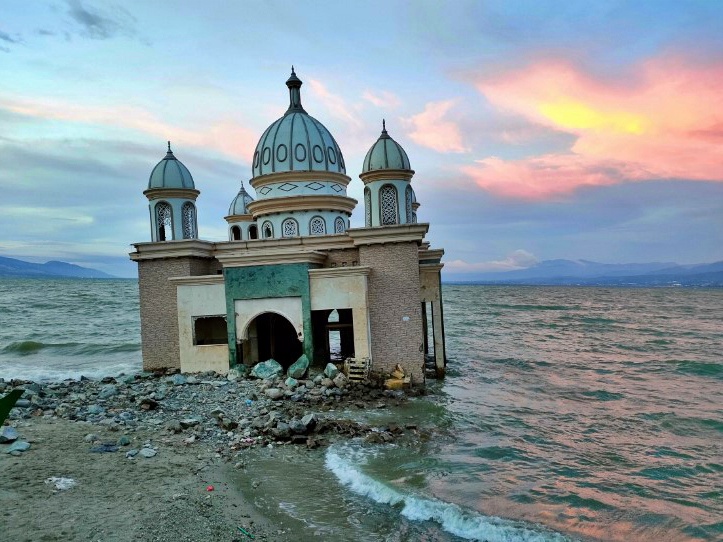 Apart from enjoying the beautiful beaches, you can also capture photos with the Arkam Babu Rahman Floating Mosque. One of the silent witnesses to the enormity of the earthquake followed by the tsunami that year.
The Five Dimensional Beach has long amazed the world. As written from the official website of the Central Sulawesi Provincial Government, there was praise for the coastal area by the Dutch East Indies minister, François Valentijn, written in a book he published in 1724.
The Dutch East Indies minister also said that the beauty of Palu Bay Beach is like the Land of Windmills. It's amazing.
Read Also : Eksplore Sumba: Misteri Situs Ratenggaro hingga Eksotika Alamnya!
Ngabuburit in Libraries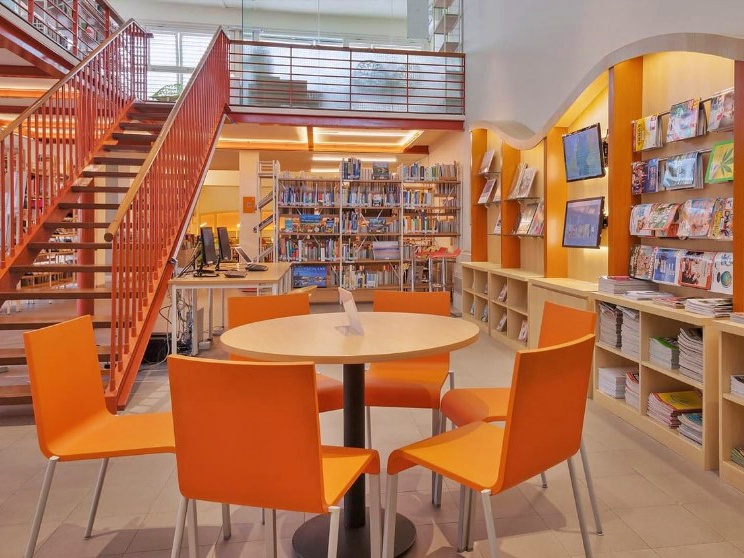 Apart from the places above, you can also fill your ngabuburit ramadhan time by increasing literacy. Going with your bestie to the Bookstore or City Library and opening up your horizons of thought is of course very useful for broadening your horizons.
Various types of book genres, guaranteed not to make you bored while spending time here. Especially for students and students, literacy while looking for assignment material.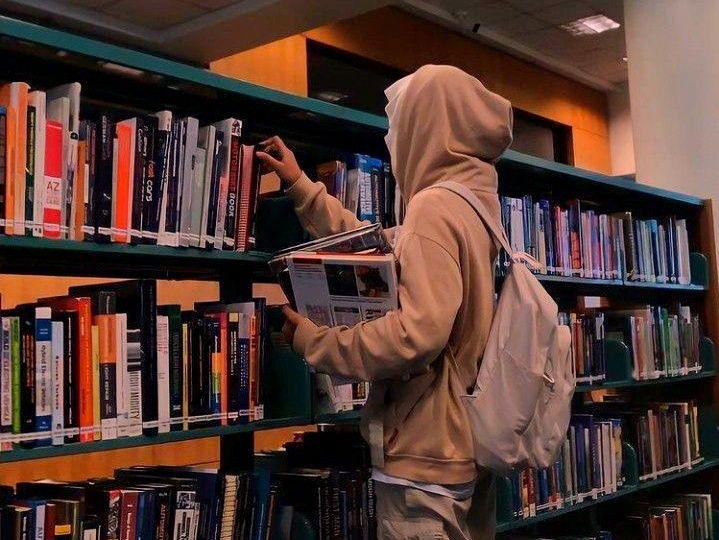 For libraries, there are also many with unique concepts, such as the National Library of Indonesia which is located on Jalan Medan Merdeka Selatan, Central Jakarta. This library has 27 floors with a height of 126.3 meters and holds the record for being the tallest library in the world.
There is also the Soeman HS Library in Riau province, which was inaugurated in 2008 and was made with a see-through concept. The combination of modern Malay architecture and typical Islamic architecture is also very strong in decorating the library.
So, who wants to be more blessed during their Ramadan prayers because they are filled with knowledge?
read Also : Mau Travelling? Ini Dia 13 Starter Pack Yang Wajib Disiapkan!
Kura-kura Beach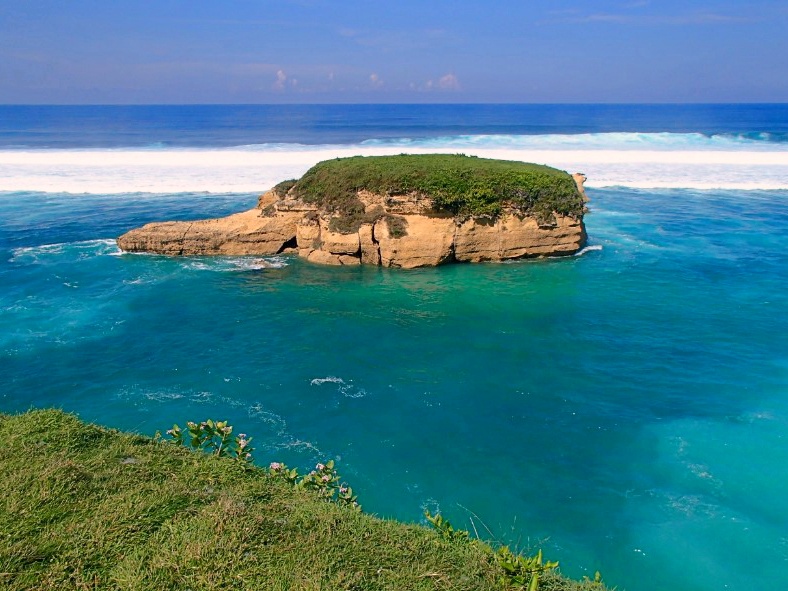 For those who don't know anything about this beach, they might think that there are giant turtles on this beach (as shown in the picture), or beaches with many species of turtles.
Hmm, you are wrong if you think so. On this beach there is a large coral rock that looks almost exactly like a turtle. Starting from the head to the tail shell. Really similar. Therefore the beach which is located in East Lombok is called Kura-Kura Beach.
The view of the sunset on the edge of Turtle Beach is also very charming. Having fun with friends will definitely be aesthetic.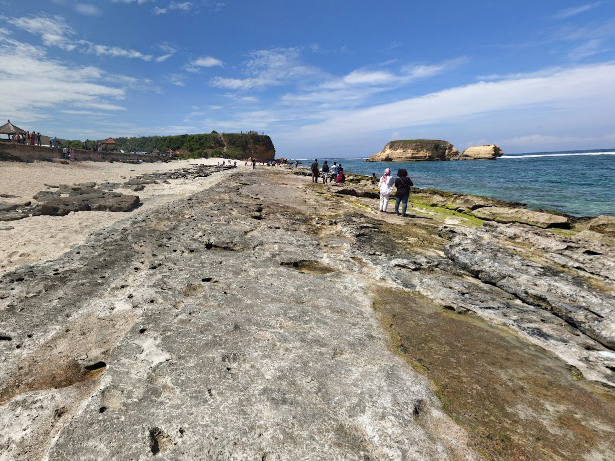 If you walk a little next to the beach there is a hill that is no less beautiful. Access to it is not difficult. You have to try to climb it, because the beauty of Turtle Beach is very pleasing to the eye from the top of the hill.
The quiet atmosphere with the gentle breeze feels like on a private beach. Reportedly now there are many residents who sell food on the beach. Come on, break your fast here while traveling!
Read Also : Taman Anggrek Sky Rink | Wahana Seru di Jakarta
Landmark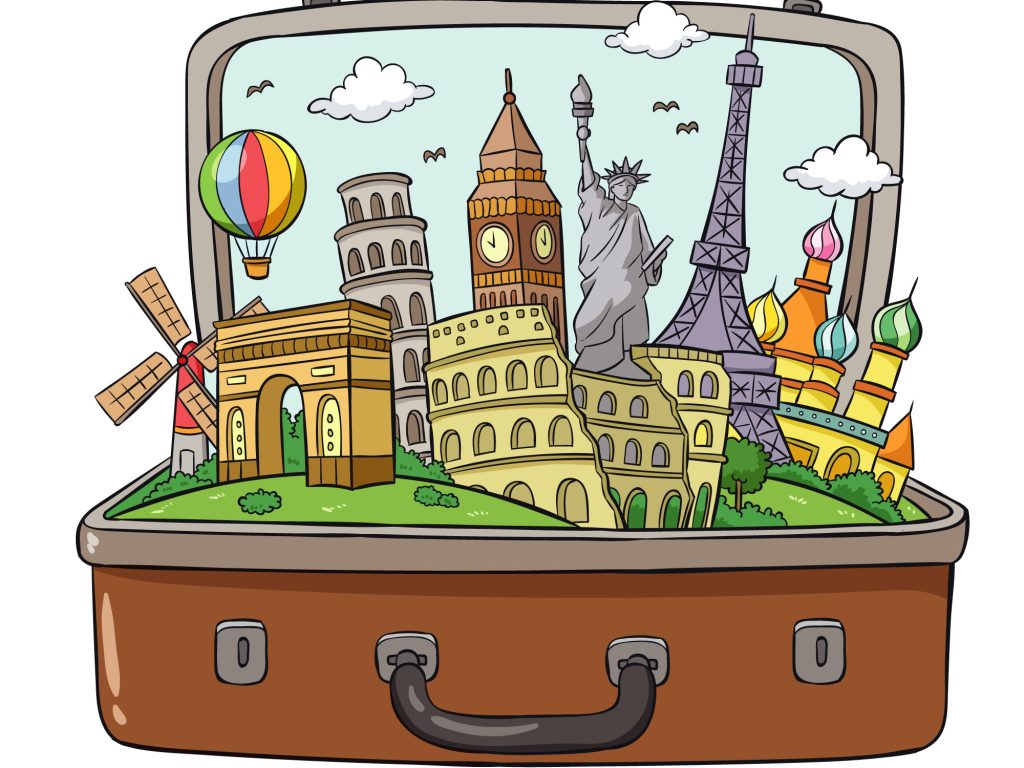 The last unique place for ngabuburit is a landmark. Landmark is a marker for an area. These markers can be mountains, hills, lakes, and so on.
In a more modern world, landmarks are shown from urban planning, buildings, monuments, transportation routes, to vegetation models.
Examples include the Eiffel Tower in Paris, Merlion in Singapore, Petronas in Malaysia, and so on.
Indonesia, which consists of many islands, certainly has many landmarks. Especially those with history. Below are some landmarks in Indonesia that can be used as references for your next Ramadhan.
Jakarta National Monument ; If you live in Jakarta, the Jakarta National Monument area or Monas for short, you really have to visit it. The National Monument with a height of 132 meters in the middle of Medan Merdeka Square, Central Jakarta has a lot of history. In the month of Ramadan, there must be a lot of people hanging out in the Monas area. The Street Food is no less exciting, there are lots of delicious and fresh food and drink vendors for breaking the fast.
Medan Maimun Palace ; Of course, you are no stranger to this landmark in the city of Medan. The Palace of the Sultanate of Deli on Jalan Brigadier General Katamso was designed by architects from the Dutch Royal Army on the orders of the Sultan of Deli in 1888 and was completed in 1891. At the front of the palace there is the Al-Mashun Mosque where every Ramadan arrives, the Ramadhan Fair Festival is always held. It will be really fun to explore this historic area.
Jam Gadang Bukittinggi ; This landmark was built on the initiative of the secretary in the city of Bukittinggi in the past, which was called Fort de Kock. Towering 27 meters high with a large 80 cm clock on four sides of the tower, is currently transformed into a tourist attraction. The park around the Jam Gadang area was also expanded as a space for community interaction. Ngabuburit in this historic and unique monument will certainly be very interesting. You who are in Bukittinggi Padang, don't miss it!
Where Do You Want to Ngabuburit?
Now you know some references to unique places for ngabuburit Ramadhan. Indonesia is very rich in interesting places to visit, from the edge of the Veranda of Mecca to the land of Merauke, of course all of them are very interesting to visit and make a place for ngabuburit, the term vacation while enjoying the unforgettable atmosphere of Ramadan.
To fly to places you like, now it can be even easier by ordering them through the Seindo Travel application. Platform for providing cheap airline tickets and cheap hotels throughout Indonesia. Attractive offers at the best prices, as well as abundant vouchers. Come on, make Ramadhan this time more memorable and blessed!
About Us
Seindo Travel provides solutions for all your travel needs.
Starting from Hotels, Airline Tickets, Transportation to
travel insurance, everything is in Seindotravel!
Follow Us
Part Of




Transaction Security





© 2023 Seindo Travel. Seluruh hak cipta