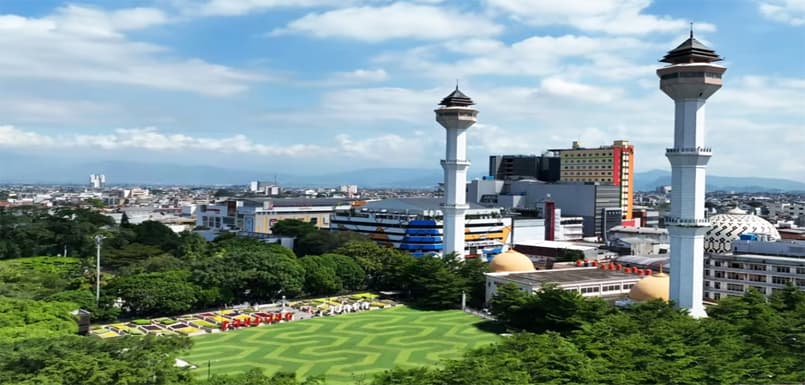 The Flower City is a Beautiful and Cool City in Indonesia, Where?
Welcome to The Flowers City is an enchanting city amidst the lush natural scenery of West Java, Indonesia. Known as "Bandung City" captivates visitors with its stunning natural beauty, balmy climate and rich cultural heritage. Especially the lively urban atmosphere. In this article, we will explore various aspects of the city of Bandung. Everything from stunning attractions to a thriving life of art, fashion and culinary delights.
History and Culture
The Flower City is the City of Bandung which has an interesting history dating back to the colonial era. Founded at the end of the 19th century, the town developed as a center for trade and plantation agriculture. Today, remnants of its colonial past are still visible in the elegant Dutch architecture that adorns its streets.
In addition, the city is also rich in cultural heritage, with a diverse population consisting of Sundanese, Javanese and Chinese. This cultural fusion is seen in Bandung's vibrant arts, traditional music performances, and exciting festivals.
Beauty of Nature and Gardens
The attraction of the Flower City is lies in its stunning natural scenery. Because the City is surrounded by lush green mountains, beautiful valleys, and green tea plantations. Apart from that Tangkuban Perahu, a dormant volcano with a mystical charm, is a popular attraction. Where visitors can see the magnificent crater up close.
For nature lovers, a visit to Kawah Putih is due to its unique natural beauty. On the other hand the surreal Crater Lake with its striking turquoise colored water. Thus Creates a very interesting and photogenic sight. Ranca Upas and nearby Dusun Bambu offer an idyllic retreat amidst nature.
Bandung City Square, Asia Africa Park, and Forest Park Ir. H. Juanda (Dago Pakar) offers a serene atmosphere. The same goes for leisurely walks, family picnics and recreational activities. It is for that reason that this area is known for its beautiful parks and gardens.
The Flowers City is a Shopping and Fashion Place
Meanwhile The Flowers City is a shopping world, attracting fashion lovers from all over the world. Of course Factory outlets, boutique shops and fashion districts offer a wide range of affordable clothing, accessories and textiles. Jalan Riau and Jalan Dago are known for their trendy shops and local designer boutiques. Because you can find the latest fashion trends at discounted prices.
Culinary Enjoyment
A visit to the Flowers City is not complete without enjoying the culinary delights it has to offer. What else offers a variety of tantalizing flavors. In this situation experience the delicacy of Sundanese specialties, characterized by fresh vegetables, savory grilled meat and spicy chili sauce.
In addition, The Flower City also famous for its street food culture. So take a stroll at Jalan Braga or the famous floating market. And enjoy delicious food such as batagor, siomay, and martabak.
The Flower City is a City of Art and Creativity
The Flower City is a center for creativity and artistic expression. Because it has many art galleries, museums, and creative spaces that showcase local and international works of art. Currently, the Bandung Institute of Technology (ITB) is a place for the development of young artists and designers. Until now contributing to the thriving artistic life in this city.
In addition, Bandung is hosting the annual Bandung Creative City Forum (BCCF). A vibrant platform that celebrates the city's creative industries, including fashion, music, design, and architecture.
Interesting Conclusion and Info
The city of Bandung or the Flowers City is a blend of beauty. Between natural beauty, cultural heritage, culinary, and artistic expression. You can seek serenity amidst nature, shop for the latest trending fashions, or expose yourself to vibrant art. From majestic landscapes and beautiful gardens to tantalizing street food and captivating cultural experiences. The Flower City invites you to explore its charms and create unforgettable memories.
In addition, for those of you who want to visit the city of Bandung. You can book your travel and lodging tickets here right now! Apart from being accessible via the website www.seindotravel.co.id. You can also download the "seindo travel" application on the AppStore and PlayStore. After that, don't forget to install it on your favorite smartphone.
About Us
Seindo Travel provides solutions for all your travel needs.
Starting from Hotels, Airline Tickets, Transportation to
travel insurance, everything is in Seindotravel!
Follow Us
Part Of




Transaction Security





© 2023 Seindo Travel. Seluruh hak cipta