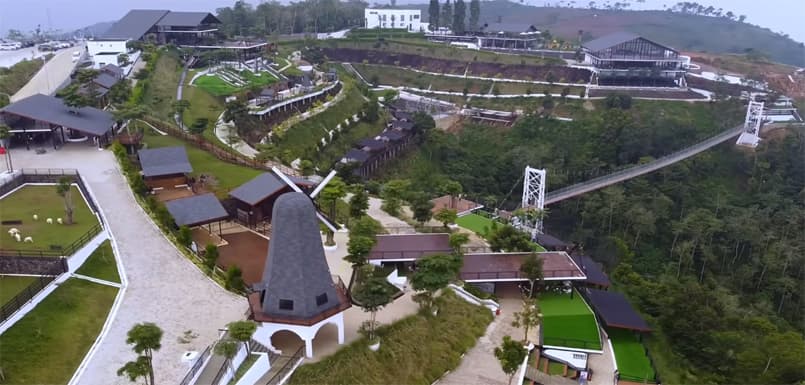 12 Activities at The Nice Funtastic Park Cianjur, What's new!
In this park, many things can be enjoyed by visitors while visiting. For example, crossing the sky bridge, gliding over the sky bridge (flying fox), swing arena and hanging steps. As well as playing e-bikes, visiting the mini zoo and enjoying Sundanese specialties at The Nice Funtastic Park Cianjur restaurant. Besides that, there is also a food court where you relax while resting after walking around enjoying everything here.
In addition, its offers a variety of entertainment and activities, such as animal feeding, playground and Slide arena (children's playground). There are also various interesting Photo Spots with panoramic views of extraordinary natural beauty. Thus making it the right choice for families with children.
1. Niceso Official Store
Niceso is a modern retail store that provides various kinds of goods ranging from stationery, toys, cellphone accessories, etc. This location is right before we enter The Nice Funtastic Park Cianjur. So, Niceso Official Store is suitable for those of you who like shopping and buying special and charming souvenirs. Of course, at an affordable cost.
2. Eat at The Nice Funtastic Park Cianjur Restaurant
There is a restaurant at The Nice Funtastic Park Cianjur with a menu of Sundanese specialties. Here are some of the menu dishes:
Fried chicken
Grilled chicken
Parrot fish
Catfish
Shrimp
Duck
With a wide selection of dishes such as fried, in broth, or grilled. Furthermore :
Salted fish
Karedok vegetables
gizzard
Rice per portion in the basket
Corn cakes
Potato Cakes
Tofu and tempe
Lalapan and onion chili are great
And various bottled drinks and refreshing drinks that you can enjoy here at affordable prices.
3. Spot Photos of The Nice Funtastic Park Cianjur
Many photo spots are instagramable, suitable for photos with couples and families. Spots that have visual appeal, uniqueness, or offer beautiful views of The Nice Funtastic Park Cianjur. Plus, Photo Spots can be a fun and memorable way to capture memories and share experiences with others.
4. Feed the animals (Sheep/Rabbit/Pony)
The Nice Funtastic Park Cianjur has a mini zoo with various kinds of animals such as birds, reptiles and various mammals. Meanwhile, there are various types of birds and their species that have permits for conservation. Even in front of each cage there is unique factual information about animals.
On the other hand, you can feed the animals directly. To be able to feed the animals, visitors can buy a small package of animal feed at a cost of IDR. 10,000. However, not all animals can be fed, only certain animals such as sheep or goats, rabbits and ponies.
This activity is popular with children and families, and can be a fun and educational experience. What's more, they can interact with animals directly while learning about animal habits and behavior. Overall, feeding sheep or goats, rabbits and ponies with food stamps is a simple activity. But it's fun to add to the experience when visiting here.
5. Horse Riding 1 Lap
Visitors can ride a horse for one round by paying IDR. 20,000, and feel a pleasant riding sensation. This activity is suitable for both adults and children. Plus it can be a fun and exciting way to interact with animals. Horse riding is also known to have several health benefits, such as improving balance and coordination. On the other hand it strengthens the core muscles, and reduces stress levels.
6. Playground (play as much)
There is a Playground at The Nice Funtastic Park Cianjur. Here you can play as much as you want with your little one. Playground consists of 2 categories, there are free categories and there are paid categories.
Playground Free The Nice Funtastic Park Cianjur
Here there is a large slide made of aluminum consisting of 4 types ranging from small to wide. There are also spider web climbing activities with several layers. In this area, you must remove sandals and shoes.
The Nice Funtastic Park Cianjur Paid Playground
Here is suitable for younger children, and are required to wear socks. The ticket price at this Playground is IDR. 20,000, and free 1 companion at least 13 years old.
This place is divided into 2 places, there are indoor and outdoor with different playing equipment.
For Indoor consists of :
Ball pool
Trampoline
Activity tables such as: playing lego, connecting pipes, sand toys complete with sand molds
There is also a soccer table
Mini slides and many more.
While Outdoors :
Bigger slide
Swing
See saw
horse
Trampolines and many more.
There are lots of toys here, making the children really satisfied playing.
7. Swing Arena
The Extreme Swing that swings towards the cliffs provides adrenaline-pumping sensations and stunning views of the surrounding landscape. This activity is supervised by trained staff and safety measures have been put in place to ensure the safety of visitors. By paying IDR. 30,000, this ride can be a memorable and exciting experience for you. But before trying it, visitors must remember that this ride requires physical and mental preparation.
8. Flying Fox
Maybe you are no stranger to flying fox rides, one of which is at The Nice Funtastic Park Cianjur. With an entrance fee of IDR. 30,000, you can try the excitement of this ride.
Flying fox is an adventure tour that uses a rope hanging above and below a certain height. It's like flying with wings. Usually these rides are designed with strict safety standards. Therefore, visitors are required to use safety equipment such as helmets, safety ropes and others.
This vehicle has become popular in various tourist destinations around the world, because it provides a thrilling and challenging experience. However, it is important to always follow safety rules. And choose a trusted operator to avoid the risk of injury or accident.
9. Hanging Steps
Hanging Steps is a swinging bridge whose base is made of separate wooden planks and has no handrails. Even though there is no handle, there is a safety rope that binds the body and other safety equipment. This bridge sways as visitors walk across it, making it a fun and challenging activity. At a cost of IDR. 30,000, visitors can feel the challenge of crossing this bridge.
10. Sky Bridge The Nice Funtastic Park Cianjur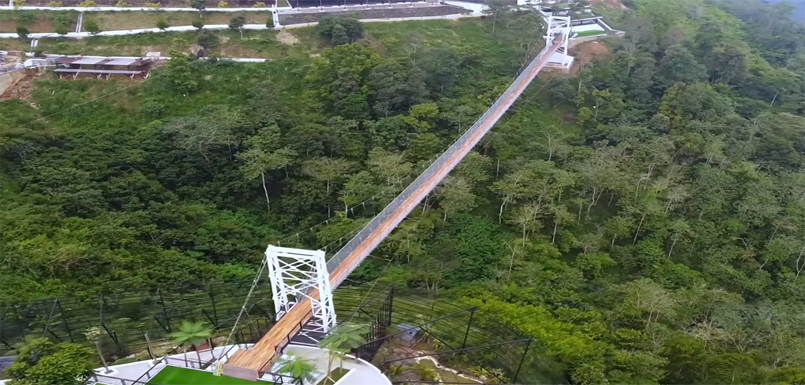 Sky Bridge is one of the icons of The Nice Funtastic Park Cianjur. The suspension bridge spans 150 meters over a height of about 100 meters. If you want to pass the Sky Bridge, just pay IDR. 40,000. And you can pass as much as you like on this bridge. Apart from that, this vehicle is a favorite vehicle for visitors here.
11. Rent E-Bikes
E-bike, is a bicycle that is equipped with a motor and battery to help drive the bicycle pedals. You can rent an e-bike for 1.5 hours/rent for IDR. 50,000. Besides that, you can comfortably explore and do short adventures at The Nice Funtastic Park Cianjur. On the other hand, don't forget to find out the terms and conditions of the lease. As well as prioritizing safety when driving an e-bike.
12. Masjid The Nice Funtastic Park Cianjur
Not just a prayer room, but a mosque in The Nice Funtastic Park Cianjur. This mosque is quite spacious and cool, has 2 floors, the 1st floor is for the men's prayer area. While the 2nd floor is for women's prayer area. The ablution water is cold and fresh, typical of peak water and there is a clean toilet seat.
Read also : The Nice Funtastic Park: Vacation in Cianjur Peak, West Java
About Us
Seindo Travel provides solutions for all your travel needs.
Starting from Hotels, Airline Tickets, Transportation to
travel insurance, everything is in Seindotravel!
Follow Us
Part Of




Transaction Security





© 2023 Seindo Travel. Seluruh hak cipta